Treasure Hunt Guide (Raid Flyff)Introduction
Are you ready to explore what Madrigal has to offer? Do you have what it takes to hunt along different maps and find what's hidden?
This feature is for you! Hunting has never been fun before!  Be ready adventurer as the reward would surely be worth it!
What this guide is all about
1. This guide tells you all you need to know about treasure hunting.
2. This guide gives you tips and tricks, hacks that would help you maximize the way to get treasures and be a certified treasure hunter.
What this guide is not about
1.This guide won't tell you more than anything other than the treasure hunting.
Treasure hunting (step by step)
Basically as the name suggests, you get to treasure hunt along the place of madrigal (Flaris, Saint Morning, Darkon, Valley of Risen, Kainlun Grassland, Bahara Desert, Plumeria, Garden of Rhisis and White Dessert).  So let's begin…
1.You'll encounter boxes (see picture below) every now and then for each region.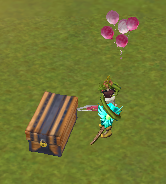 2. As you open them, a fairy would spawn right next to it.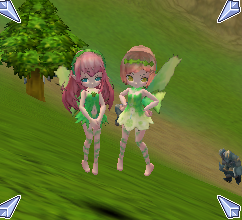 3.Killing a fairy would reward you with a drop of box/es according to which region you kill it.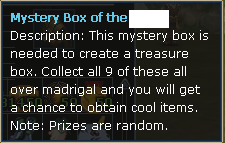 4. After collecting 9 different  boxes, you can talk to Treasure Hunt NPC located near Flaris Bank.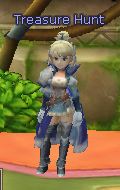 5. Put each box on the corresponding slot (see picture below) to obtain the reward.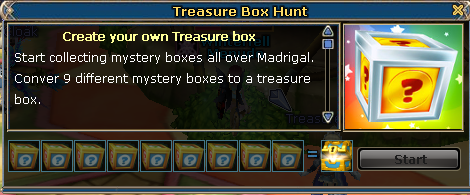 Congratulations!
 You may now open the boxes and hope for the best rewards!
Treasure hunt rewards


1, 5, 20, 40 Donate Chips (Random)

Tips and tricks section
In this section are the tips, hacks and tricks you can use to efficiently become a master treasure hunter.
1. Before hunting treasures, make sure you have a full gift box on your character. More Gift Box means more drops (7 drop for complete GB) for killing the fairy monster.


Cloak buff (+2 for cloak)

2.The time of respawn for each box opened is 12hrs. it means upon opening a box, 12 hour time would tick before another box respawns. So you better take note of that.
3. More often, the treasure box would respawn near the warp portal of each region you visit. One example would be teleporting near Darkon 1, you'll see the boxes near the warp area. So better keep your eyes keen enough to see those boxes.
4. Valley of Risen and Plumeria is the lowest box count respawns among the entire Madrigal. So you better take that into account
5. It's always good to check every other hour for boxes as other player may have opened it for the past 12 hours.
Frequently Asked Questions (FAQs)
1. If I use cheer before opening a box, would I gain more chance to get Donate Chips?


No you won't. Getting reward from boxes you've opened are at RANDOM!

2. What are the difference between treasure box of *insert name* among other treasure box?


They are just practically the same with no difference. However, there's a rumor that opening that reward boxes on the allotted region make you gain more bountiful reward (jk)

3. Help! I opened the box last 12 hours, why is it not on the same spot?


The boxes (treasure box) respawn randomly within a certain region you opened it. It means that you'll have to explore more often to get more chance of seeing those boxes.

4. I opened the box and a fairy respawned. But it killed me, what can I do to kill it?


The advisable level to treasure hunt is around level 250. If you're not yet 250, you'll have a hard time killing it. You can read my other guide (leveling guide) to kickstart your leveling towards the cap.

5. I always get gumballs. Do I need to hunt more to get the best rewards?


Well, there's a saying "more entry means, more chances of winning", so get up and start hunting like a pro!

Have Fun Raiding Flyff!
Shanks.

Admin




Posts

: 11


Join date

: 2018-08-15




---
Permissions in this forum:
You
cannot
reply to topics in this forum